Services - GPR
Provide Accurate Information
Concrete inspection with GPR is a fast non-invasive method of gathering data which can be used to help avoid dangerous situations.
We provide our clients with the most accurate information possible about what is in the concrete so they can make informed decisions.
In addition to evaluating the condition of concrete, Ground Penetrating Radar (GPR) can quickly locate and document the position of conduit, pipes, rebar, and post tension calbes buried inside a concrete slab. The portability and ease of operation of modern GPR systems allows the operator to move easily about the job site and to record a large amount of data in a short period of time.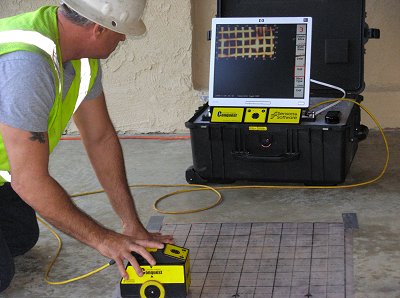 Grid Scan for 3D Imaging
















Identify Post Tension Cables
Post tension cables are commonly used in large scale concrete construction, but once buried in a concrete slab, the exact location is not apparent. These cables are under thousands of pounds of tension. Accidentally cutting or drilling one can be extremely hazardous to workers and can compromise the structural integrity of the building.

Locate and Identify Rebar For Safe Drilling
Reports Generated On The Job